Are we still going? Yes, we are!
We are thrilled to be continuing our sessions online and are pleased to welcome new members also. Due to the current situation, we are temporarily running a slightly different timetable to usual which you can view here.
FROM MONDAY 19TH APRIL we will return to face-to-face classes and as before, are fully committed to providing a clean and happy environment for our students. Here are some of the ways we keep everyone safe:
Smaller class sizes
Fixed bubbles of children
Large, ventilated venues
One way systems in our venues
Staggered drop-offs and pick-ups
Encouraging social distancing
Encouraging frequent hand washing
Cleaning in between classes
We look forward to hearing from you!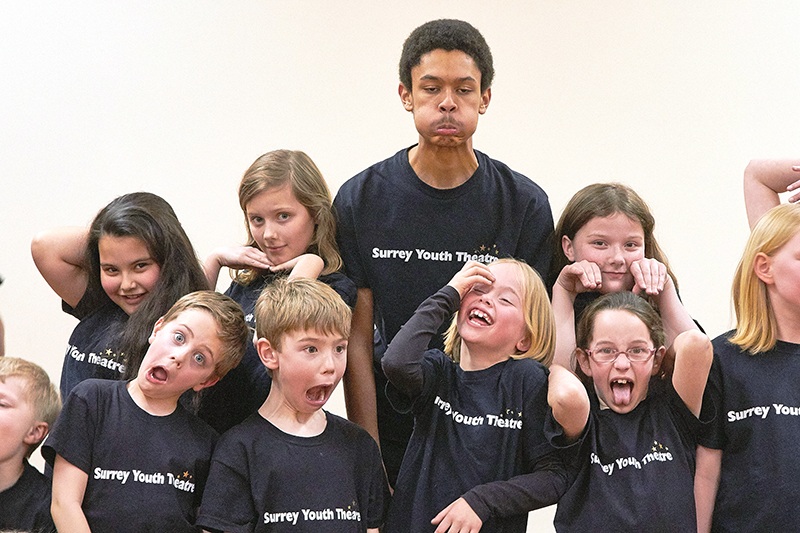 Do you love to act, dance and sing?
Are you aged 3 - 18?
Since we began in 2012, Surrey Youth Theatre Godalming has quickly established itself as a leading company in providing the highest standard of performance training for 3-18 year olds. Run by top industry professionals with a wealth of experience in television, film, theatre and media, we are best placed to develop the talent of students of any skill or ability through weekly sessions specialising in all aspects of performance art.
Our weekly sessions run on Mondays, Tuesdays and Thursdays in Godalming at the Wilfrid Noyce Centre. (See class timetable)
Aside from our weekly sessions which work towards two productions a year, we also host specialised workshops from guest professionals during the school holidays and also have the option of private tuition in singing or acting. In addition to all of this, we are a registered private centre for LAMDA examinations and run acting exam courses throughout the year. For more on this, visit the LAMDA page on this site.
During sessions and workshops, the students learn skills in musical theatre, dance, singing, improvisation, script work, television technique (with top studio cameras and lights), mime, mask, comedy and much more.
As individuals the students also develop in communication, critical thinking, clear speech, empathy, self-discipline and being part of a team. These are useful whatever walk of life your child choses, whether it be working in the entertainment industry or the field of law, a career in media or even politics. The skills learned at Surrey Youth Theatre will set them up for life.
We are also proud to be represented by the UK's largest TV, Film and Theatre Agency for children based at Pinewood Studios whose credits include 'Harry Potter', 'James Bond', 'Nanny McPhee', 'The Inbetweeners', 'Downton Abbey', 'Mamma Mia' and many more!
So, whether you're passionate about singing, acting, dancing, working back stage or directing;
Whether you're considering a career as a professional performer;
Or whether you simply want to gain confidence and make new friends;
Whatever the reason, this is for you!
Be a part of this unique and dynamic youth theatre and book your free taster session today!