LAMDA Exams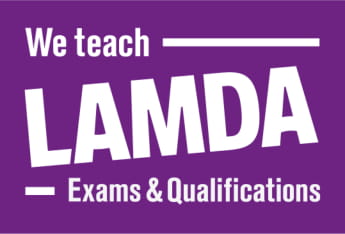 "Known for their reputation for excellence, LAMDA is now the UK's leading speech and drama awarding body and the most recognized vocational qualification available to students aged from 6 and above."
Surrey Youth Theatre Godalming has been coaching students for their LAMDA exams for a number of years now, with excellent results and we are thrilled that we have been able to continue tuition remotely during the pandemic. The remote learning programme proved to be a huge success during the first lockdown with students taking their exams in July 2020.
Our next set of courses will begin in the Spring term of 2021 with the option to study either face to face or remotely.
Here's what it's all about:
What is LAMDA?
LAMDA stands for the London Academy of Dramatic Art which is one of the oldest and most respected dramatic institutions.
LAMDA examinations are vocational qualifications in performance, speech and communication for young people which are open to children as young as 6 years old. LAMDA is all about empowerment, achievement and enjoyment whilst developing life skills which will set a young person up for any path they follow.
How can LAMDA help my child?
Most importantly, LAMDA isn't just for students with a gift for performance who want to polish their skills. It's also for children who:
struggle with confidence
want to develop their English
achieve well academically but need to improve presentation skills and speaking in public
want to increase their chances of getting their choice university place (LAMDA qualifications count as UCAS points)
Under the various syllabi on offer, students will:
Learn to read with greater understanding
Improve self- expression
Expand vocabulary
Practise memorising and recalling information
Develop the art of conversation
Be able to create and defend arguments
Who will teach your child?
Our LAMDA programme is led by our superb Head of LAMDA, Angela Wood, who is an experienced LAMDA tutor with over 20 years' experience in coaching students through exams and holds a 100% success rate.
As teachers, we at Surrey Youth Theatre pride ourselves on being passionate and encouraging and although students consistently get good marks, they are never pressured to the point where drama stops being enjoyable. Our aim is to enrich their learning not just in performance but all aspects of their education.
"I believe this course is such a great life skill for the future, and to me, the main measure of success -apart from the fantastic exam results- is the fact that both my daughters are asking when they can do the next course as they walk out of the exam room"
Parent from July 2020 course.
What will my child study?
Exams run typically from Grades 1 to 8 but for younger students, there is an Entry-level and an Introductory level. Entry-level exams and above are all regulated qualifications by OFQUAL.
There are no age stipulations but the right grade will offer the student a challenge without overwhelming them. The most important thing is that the student gains confidence, self-belief and a sense of achievement.
There are a variety of courses available for study depending on the individual student's interests. LAMDA is also widely accessible for students with learning challenges such as dyslexia.
What happens during a lesson?
This greatly varies depending on the chosen syllabus and grade but aside from rehearsing the required material students will enjoy warm-ups, drama games, exploring vocal and breathing techniques, and learning how to develop an in-depth character. Each student will also learn about the context of their pieces and develop their conversational skills for the knowledge element of the exam.
What happens on the exam day?
We understand the idea of an examination can be nerve-wracking but we do all we can to make sure each student feels relaxed on the day and above all enjoys it!
We are proud to be a registered private exam centre which means that our students are able to take their LAMDA exams in our venue at the Burys Scout Hut at the back of the High Street in Godalming instead of traveling into London. On the examination day, each student will present their prepared material to the examiner. Following on from this they will have an informal chat with the examiner where they will answer the theory questions relevant to their grade. Our younger students will chat about a favorite toy or game.
Each student receives a LAMDA certificate of their official qualification 6-8 weeks after taking their examination. Grade 6, 7 and 8 students receive a medal and UCAS accreditation.
Course dates, times and prices
Due to the current pandemic, we will not be offering group LAMDA classes in the Spring term but instead delivering all our sessions one to one. This can either be face to face (if not in restrictions) or online via Zoom. If lessons are conducted by Zoom the student will be required to attend a portion of lessons in person ahead of the exam. There is also the option to study with a friend and share a 2 to 1 which can be discussed.
Sessions are 30 minutes long and charged at £20 per half hour. Face to face classes take place in Godalming at either Angela's home or the Burys Scout Hut at a time and day suited to you. Online sessions take place remotely. All government guidelines regarding COVID 19 are adhered to
The amount of lessons needed will depend on the grade being taken
Payment is to be paid monthly to the teacher and invoiced one month in advance
Exam Fees from LAMDA:
The above does NOT include the exam fee which is stipulated by LAMDA.

The exam fee is to be paid 8 weeks before the exam day.

The cost for each grade is:
Intro level 1 £28
Intro level 2 £30
Intro level 3 £32
Entry level £38
Grade 1 £44
Grade 2 £46
Grade 3 £50
Grade 4 £59
Grade 5 £64
Bronze £76
Silver £82
Gold £95
If you would like to know more about how to get involved with our LAMDA courses please click here.
We look forward to hearing from you.